We are now offering

TELEMEDICINE

 Appointments 

& Covid PCR Testing.
Video Call with Pediatrician Dr. Aida Khanum from the safety of your home.  Call 713 669 1900 for your Appointment or submit a request for an Appointment
Well Child Care/ Sports Physical 
Telemedicine Appointments
Welcome  to Pediatric Pod
We are delighted to welcome you and your family to our pediatric practice in Bellaire, Houston for your Well-Child and Sick-Child Visits.
"A pediatrician should encompass the qualities of a medical detective, counselor, and healer. Dr. Aida Khanum's aim is to fulfill all these roles in the care of her patients and their families in a timely manner."
Dr. Aida Khanum creates a close patient-physician relationship allowing individualized care plans to treat your sick child and with her kind and gentle bedside manner, her goal is to keep your children healthy as they grow. Dr. Khanum knows that your child's health is very precious and your time is valuable. She created Pediatric Pod in Bellaire (South West Houston) as a medical home where families have immediate access to their pediatrician, obtain timely visits in a small practice environment. She cares for children from birth till Adolescence and provides well visits based on the American Academy of Pediatrics (AAP) guidelines. Her focus is on preventive care and as a pediatrician, she encourages all her patients to get vaccinated according to the AAP guidelines. She does Newborn Nursery Rounds at The Woman's Hospital of Texas which helps establish continuity of care for her patients. If you are expecting and looking for a pediatrician Call Pediatric Pod at 713 669 1900 for your free Prenatal Consult with Dr. Khanum Today!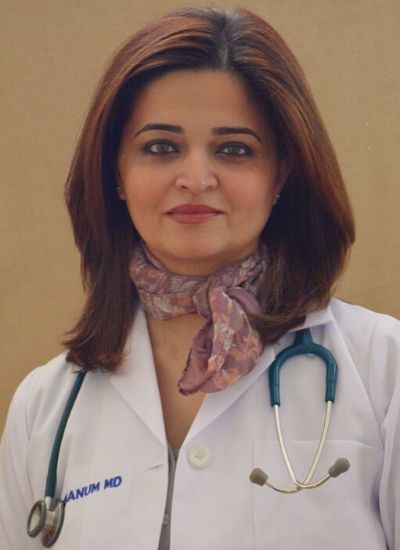 Routine Checkups to Immunizations in Houston
Our clinic is equipped to handle all of your child's health needs-
1. Prenatal Consult
2. Immunizations
3. Well Child Care/ Sick Child Care
4. Newborn Care
5. School and Sports Physicals
6. Chronic Conditions (Asthma)
7. Obesity and Weight Management
8. Vision and Hearing

| | |
| --- | --- |
| Monday – Friday |  8:00 am – 4:30 pm |
Same-Day Appointments Available

 

(713) 669-1900 
Please have your insurance information available at the time of making an Appointment.
Our AWARDS (2015-2019)
Houstonia Top Doctors 2021
Houstonia Top Doctors 2019
Houston Health Department Champion Provider 2019
Immunization Champion Award 2019
H Texas Top Doctors 2018
Houston Health Department Champion Provider 2017
Houstonia Top Doctors 2016
Houstonia Top Doctors 2015
What to bring to your Appointment at Pediatric Pod.
Government-issued picture ID

Health insurance card

Immunization records
How Can We Help You?
If you are looking for a Pediatrician for your child's Well & Sick Visit in the Bellaire or Houston area, We at the Pediatric Pod clinic are currently accepting new patients. Please call today to make an Appointment.
Insurance Information for Pediatric Pod in Bellaire.
"We accept most insurances. Please call the office (713-669-1900) to verify if we are in-network as plans constantly change. Please call your insurance to check whether we are in-network"
Testimonials at Social Media
300+
Average Rating
Rated-5
  |  
22 Feb 20
   |   
Velazquez
I have been attending my son with Dr. Aida Khanum for a short time. And the truth is that I am delighted with the service and treatment of the clinic staff. The best decision I made was to change my son for that clinic. Recommended with eyes closed. (Original) Llevo poco tiempo atendiendo a mi hijo con la doctora Aida Khanum Y la verdad que estoy encantada con el servicio y trato del personal de la clínica. La mejor decisión que tome fue cambiar a mi hijo para esa clínica. Recomendada con los ojos cerrados.
Rated-5
  |  
Jan 15, 20
   |   
Rian
Everyone is nice with an amazing Attitude. So professional and great with kids. I would recommend any day to every body.
Rated-5
  |  
Jan 15, 20
   |   
Denae Arellano
They are always very flexible and helpful... the wait is never too long! So great to have such a wonderful, reliable clinic so close to home 🙂
Rated-5
  |  
Jan 15, 20
   |   
Kimberly M.
The attention is excellent, and the doctor very dedicated to my children, the assistants are special with my children, I recommend the place 100%
Rated-5
  |  
20 Feb 20
   |   
andreina
Everyone is nice with an amazing Attitude. So professional and great with kids. I would recommend any day to every body.
Rated-5
  |  
25 Feb 20
   |   
Ali Nasir
I have been bringing my kid to Dr. Khanam She is really good and her staff Fateen, Yerelis and Cynthia are awesome No long wait, easy access for parking. Safe neighborhood . I strongly recommend them.
Rated-5
  |  
Sep 21, 19
   |   
Ann Maria H
She is super friendly and made me feel very safe and confident for my baby's arrival
Rated-5
  |  
Mar 22, 19
   |   
Latasha L.
This was my first time seeing Dr. Khanum... And I can honestly say I'm glad I switch my kids to her